Age Range: 12 to 19 years old inclusive.  However, MattDotCom would try to help a teenager beyond 19 years old  if they were still in full time education or studying at the Open University, if they were diagnosed before 19 years old.
Area: Lincolnshire (Humber to the Wash), Rutland, Nottinghamshire and South Yorkshire.  Major towns and cities include Lincoln, Skegness, Louth, Boston, Spalding, Grantham, Stamford, Gainsborough, Grimsby, Scunthorpe, Nottingham, Newark, Retford, Derby, Oakham, Sheffield, Rotherham and Doncaster.  To work out if you are in our current catchment area put a compass point on Lincoln Cathedral and set your compass to 50 mile radius, if you live within the circle we will try and help you.
Who can apply for a system? An application for a laptop or home system has to made by your nurse, social worker, OT or teacher.  All children's wards and hospital social work departments in our current catchment area have been sent application forms and information sheets.  We have also sent information to all TCT wards in Great Britain.
NOTE FOR STAFF – if you are working with teenagers who are undergoing long term treatment and have not received any application forms and information sheets please contact David Harding-Price.  E-mail – david @ mattdotcom.org.uk
Time a teenager has a laptop? We endeavour to help any teenager in full time education and the equipment is now given on the understanding that the teenager is studying at some level.
Short term loans can be arranged if a teenager is incapacitated by trauma and unable to attend school.  Teachers can make application for such loans.
Please note that from January 2018 MattDotCom changed the way we work.   Systems are now donated to the teenager from day one, with a two year breakdown insurance.  Parents are advised to put the equipment on their household contents insurance as it cannot be replaced.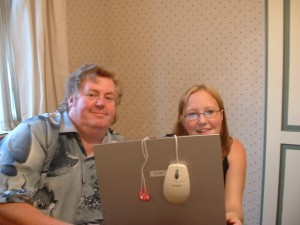 Smiles all round as Emma receives her laptop. Emma was the first recipient in Lincolnshire to receive a laptop back in 2004.  We have just heard is about to get married!!!!! Yeah!!!!!  Our first loans were in 2003 to a couple of lads in South Yorkshire.  Since then we have helped teenagers across the East Midlands and even further a field.  Up to May 2017 we have helped 116 teenagers living in Lincolnshire (24%), Nottinghamshire (27%), Derbyshire (14%), South Yorkshire (14%) Outside catchment area (21%).