This Eulogy for Matthew Harding-Price; whose idea MattDotCom was; is an inspiration for all at MattDotCom
Written and read by Will Hobby at Matthew's funeral 18th March 2004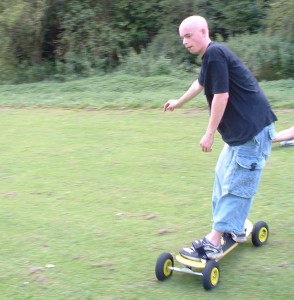 Few of us go through life creating truly unique and original styles and future hopes or aspirations. However, Matt was one of the rare and special few.
He didn't want to work in business or commerce, the services or the forces. Cars were his passion and he had dreams of working in the rally industry, a dream he was chasing until his end.
My first recollections of Matt were of a shy boy with masses of curtained ginger hair! He was assigned to me by our form tutor. I took care of him and showed him the ropes. He followed me around like a lap dog in the first few days and like a lap dog got under my feet. He would never be more than four feet away! But as he grew in height and confidence his true charismatic appeal shone through. We became close friends and shared a great deal of memories.
It was a great pleasure to undertake the Bronze Duke of Edinburgh Award with him, entertaining the group as he did by falling hand first into a cow pat, injuring himself on it and then his insatiable moaning that he 'just wanted to be at home, playing on his new N64'.
Soon after Matt became a bit of a ladies man and he was never without one of the Minsters top three by his side.
Matt might have shared my ability on the football pitch but on the athletics track he proved his worth when competing in the 4 x 100 relay race. He gave an unprecedented outstanding performance and against all the odds brought home gold for his house. A day etched in all our memories.
Matt carved his own style, tastes, thoughts and feelings. This display of honest expression earned him light mockery from his friends. His name unfairly became synonymous with "thief". No-one know why but to this day if police sirens are heard in the distance the word "Matty" is not far behind.
In his more adult life Matt never stopped being a character. He became a connoisseur of daytime television, a grass boarder and dog lover. With time on his hands it was not wasted, but utilised to form many fantastic plans for the future, to work on his car and an Open University degree.
Though his music tastes differed greatly from ours his easy going nature always meant, that no matter how much he hated it, he would always come to walkabout with us, watch us drink and dance like fools and while often unable to drink himself he would gladly drive us home.
Matt had many talents, ranging from his artistic abilities to mechanics and as we have just discovered illegal street racing. On one occasion he won £50 racing his mobility car, a 1.8l Astra Sxi. He had many attributes as well. He was the bravest person I know, with more courage and determination than I could ever hope for. Not once in his 3½-year battle, did I see any sign of him quitting. Not once in 3½ years did he let his illness stop him doing something. At times he had only months to live yet he planned for events 12 months down the line. His car is proof of that. Whilst his trip to Dublin 8 days before he died showed his determination against all the odds.
Matt is an inspiration to all of us and he has taught us many things. What we take for granted: our clothes, our homes, our health and our very lives, have suddenly become much more precious. Above all, I have learnt the true value of friendship and the importance of such a bond. With a stark realisation of how fragile life is, my everyday farewells to my friends and family are now much more heartfelt. With the harsh reality of life now so clear. I know we must not waste what precious time we have been given.
This world is a better place for Matt's presence in it. His charismatic, enthusiastic and positive personality is etched on all our hearts.
His passing is a sad occasion, with his tiresome fight finally over. Matt died in Lincoln Hospital on Monday 8th of March 2004 a little before 8.00 a.m.. At 8.02 a.m. in the same hospital a baby girl called Emily was born to a loving family. I hope she will travel through life without the trials and tribulations Matt dealt with. If she grows to be a rally driver, we will know that Matt has had some hand in her direction.
Last year Alasdair and I walked one mile every hour for 100 hours to raise money for MATTDOTCOM. We would walk one mile every hour for 10,000 hours, if it meant having Matt back with us.